The Top 5 Biggest Slot Wins in Online Gambling
Categories:
Blog
|
Published by:
admin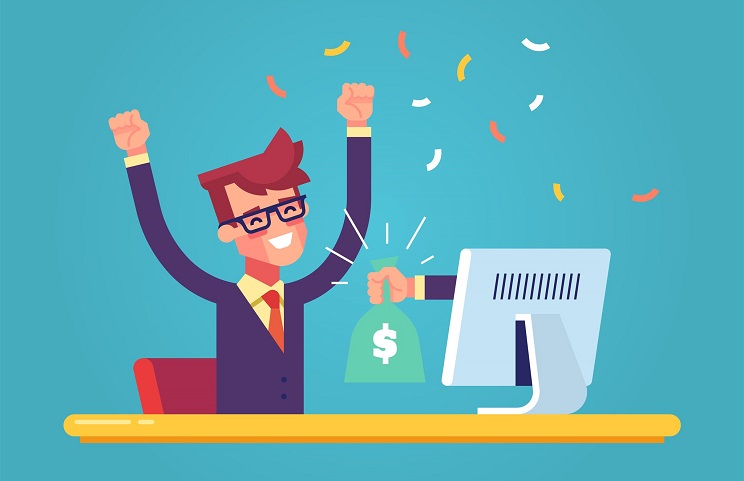 You have heard about the big winners – the millionaires created in an instance – with that one epic spin.  Well – today could be your day.  Today could be that moment you click spin and a life-changing sum ka-chings up on the screen.  You may be sick of hearing how these big winners were these hapless folks who happened on a slot site one fateful day and with a single deposit made it big.  Well, let's make it easier for you to know where to go to make yourself that lucky dude of the slots.
Mega Moolah: the world record winning bucks
Let's start with the biggest pay out of all times – to date – and therefore the current world record holder in the Guinness Book of World Records.  A guy named John Heywood won around 18 million euros in 2015 on the Betway Casino.  This British soldier – at least he was at the time – claimed he would spend the money to help his family – and he may buy himself a luxury car – or two.
Mega Moolah is obviously a game you play because of the banner headline that offers pay outs in the millions of euros.  To get to this prize money you have to commit to the progressive jackpot – and it comes in multiple themes – in case you get bored.  There is the American, Egyptian and Holiday Theme – as well as the traditional Wild Africa theme that was the site for John Heywood's big win.  The jackpot game is triggered randomly – the more you play the more luck is with you – but it might just take one spin of the reels – maybe – just one.
Number 2: NetEnt Mega Fortune and 25 cents
I know – you don't want to hear it right.  You are imagining all that time and all that money you have spent spinning and spinning – waiting for the bonus round – and only just coming out on top.  Then, you hear about this bloke – he has 25 cents to spare – and he ends up netting around 17 million euros on Paf Casino.  Dry your eyes mate… well, that's what the winner from Finland was told – as he cried in delight – and you may need the same advice.  The guy didn't just happen upon online casino sites – he was an avid online poker player who just got distracted for a moment.  He'd always been a bit dismissive of slots as a cop out for those who didn't like to gamble seriously – well – he has probably changed his mind now!
Mega-Fortune is a great five-reel game that is worth playing for more than just the mega-pay outs.  It is possible to activate a whole load of free spins and bonus features – which are likely to keep you interested for the longest time.  It is a classy design – and an exciting prospect to play.
Number 3: NetEnt Mega Fortune: insomnia? Try this solution.
There once was a man in Norway who just could not sleep.  No matter how much he begged with the sheep to let him snooze – it just wasn't happening.  So, instead the guy played the slots to fill the time.   He was certainly glad to be wide awake when he hit the jackpot and herded up around about 12 million euros in 2011.  Makes you almost tempted to never to sleep again – just in case.
If you are wondering if the guy slept after his win – you kidding? He was sat until the morning alarm went off staring at the screen in disbelief.  He was probably imagining the grand cars, the jewellery, the speed boats and the expensive wines that he would buy – and had been promised in the graphics of the game.  It seems like Mega Fortune really is a great option for the big win.
Number 4: Hall of Gods: a place in heaven for a man from Sweden
Unibet Casino was the site to house this jackpot super win.  In 2012 a lady from Sweden decided to take a spin around the Hall of Gods slot and ended up with an impressive 7.6 million euros.  This was thanks to the games hugely popular progressive slot feature.   Our lucky lady kept her feet on the ground – believing the win would help her to improve her lifestyle.  Up until this moment in 2012 – she was the biggest winner of all time on the slots.
It seems like NetEnt know how to create a game with a buzz – and one that could land you a big pay out.  This game is based on Norse Mythology and has some wonderful graphics.  It is a 5-reel slot with 20 pay-lines – and obviously – the progressive jackpot that can be won randomly – or just by playing lots and lots and lots and hoping you trigger the jackpot game.
Number 5: More Mega Moolah – this time in Greece
Making its second entry into the chart – Mega Moolah is definitely well named.  It is likely if you know anything about slots – it won't come as a surprise that this game features highly in reports of big jackpot wins.  It is one of the most popular games from the Microgaming stable – and is frequently the place where some lucky person wins big on its progressive jackpot.  One of the earliest big winners came in 2009 – when a lucky Greek won 6.3 million euros at River Belle Casino.
In 2009 this was the biggest jackpot to be paid out – and all the lucky winner could say was that it takes small moments to make big changes.
And what do we learn from all of this?
Well – first we learn that it is a good idea to be super lucky.  It is not likely -ever- that you will stake 25 cents and come away a millionaire – though you can hope.  You could also suggest that we have learnt to not sleep – or to just play for fun in a spare moment – but we have all done this in our time.  In reality, the best news to come from this article is that there are two games in particular where your chances of winning millions seem to be higher than elsewhere – so check out Mega Moolah and Mega Fortune to see if the name of the game comes true for you.
Relevant news