BetHard Casino Review & Welcome Bonus 2022
Overview
Variety: 4/5
Quality: 4/5
Experience: 3/5
BetHard Casino bonus and offers: 3/5
Overall: 3.5/5
Welcome to our BetHard Casino Review, which aims to add some detail to our choices in our BetHard Casino Ratings 2018. This online site might be better known for its sportsbook than its casino. The major promotion for the brand is through the part-owner and brand ambassador of Zlatan Ibrahimović. This means you might think that it only has fingers in football pies, but it has recently joined the ranks of casino owners – and brings with it the slogan "Winners Dare More" – suggesting that they are a hardcore site for the high-level gambler who also has a sense of humour.
The main owners of the site are Gormandan Solutions Ltd. that is based in Malta, as with many other gambling companies. This is a subsidiary of Worldclass Entertainment Ltd. In short, the site may be new, but it is backed by a lot of corporate experience.
Your BetHard Casino User Experience
The theme of the site matches the branding of BetHard as a gambling organisation. The homepage theme is set in an Old West drinking saloon and everywhere you look is the clenched fist logo. The use of a green, gold and black colour palette fits this masculine theme and there is almost a clichéd sense of the Vinnie Jones hard man about the experience they seem to promote. We see this is a bonus in this BetHard Casino Review.
Although Team BetHard should really be considered under the promotions section, we thought it was a crucial part of our BetHard Casino ratings 2018 on experience. This Team BetHard is a loyalty program that serious competitors on the site are invited to join. This then provides opportunities, promotions and bonuses specific to the members of the team. It is less surprising that they have a loyalty program and more impressive that they have created an ethos on being part of the club, being exclusive and therefore a sense of belonging. This is clearly a carry over from the sportsbook, but one which we think enhances the experience of the site – a real plus in our BetHard Casino Review.
One of the biggest concerns our researchers discovered where in relation to a dormancy clause in the terms and conditions. The site seeks your permission to take a fee from your account, if your account is not used for a set period. This amount is not specified. There are also implicit suggestions that they could reclaim a balance if the account is not used a set period, meaning they could send your account to zero and keep the funds. This has to be a detail that is factored into our BetHard Casino Review.
However, if you choose to clarify this with BetHard customer services, then you will find them responsive to your points. They also offer quick withdrawal and customer reviews seem to promote a lot of trust in the site.
The BetHard Casino site and mobile app
There is no dedicated mobile app, which isn't surprising, as the site is new – which we see as a downside in our BetHard Casino Review. However, the website is well-designed, easy to navigate and works well on phones and tablets. This means that you can bet on the go with ease from your mobile devices, without the need for a mobile app. This might work on tablets, but most find using the web browser on a smart phone clunky, so the BetHard Casino ratings 2018 does factor in the lack of a dedicated app.
Despite this, we really like the style and responsiveness of the site. And, we think there is enough thought gone into the branding and the experience to counterbalance any other weaknesses.
The game features and options at BetHard Casino
With nearly 300 games, there isn't a wealth of variety on the site – but that is not shabby either. Our positive Bethard Casino Ratings 2018 comes from the 51 different video poker games. We are not surprised by this emphasis on poker, as it matches the brand of the site – the idea of hardcore clench-fisted gambling, rather than some frivolous fun on the tables.
The games are provided by NetEnt, Microgaming and Play 'N Go, so they have gone to some of the big hitters in software development to make sure of the quality of the gaming experience.
BetHard Casino welcome bonus and other offers
The BetHard Casino offers to "Kickstart you BetHard adventure" with up to £50 of extra play anywhere on the site. You can use this bonus wherever you want as long as you wager £100 in the first week on the site. This is a far from overwhelming welcome bonus, as other sites have much more generous start up offers, but it comes with less stringent terms and conditions – making it a more honest offer. The bonus comes wager free – so you can withdraw it instantly. This should make giving positive BetHard Ratings 2018.
When they say anywhere, they mean on the sportsbook, casino or live casino – and you can claim the £5 bonus bet per £100 up to 10 times. We slipped that last T and C in there at the last minute – because it thoroughly explains why the BetHard bonus gets a low rating. To get the £50 you have to actually wager £1000 in 7 days. That really is daring to win and out of the reach of most sensible punters.
Our overall BetHard Casino Review
As you can see from our BetHard Casino ratings 2018 and from the details in this BetHard Casino Review, we have mixed feelings about this site. The branding and team ethos created makes us want to like them and see the positives. However, there are some obvious issues and problems that the site needs to overcome. But this is a new casino brand, and this is a strong start. They have definitely sparked our curiosity.
Pros / Cons
Clever branding
Team BetHard makes you want to be loyal for reasons beyond reason
Intuitive and well-designed site
No mobile app
The welcome bonus promotes some insanely large bets in the first week, which might not be considered too healthy!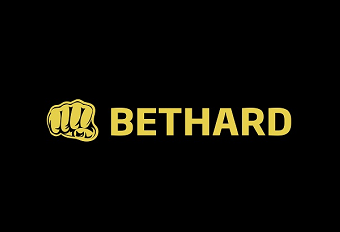 Play now